5G EMF Kit Rental for OHSE Officers & Managers
Are you concerned about the safety of your employees due to a new 5G tower that has been installed in the vicinity of your office or worksite?  
Do you need to make sure that its emissions are within the safe levels specified by the Australian authorities? 
ADM Nuclear Technologies can help you perform these measurements.  
Whilst we don't go out and take the measurements for you, you can hire our 5G EMF Measurement Kit, that allows you to take your own initial measurements.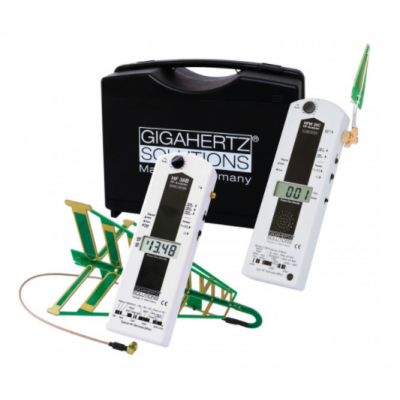 A member of our expert team will explain the operation of the meters and the controls when you collect the equipment. Or if we ship it to you, we can assist with its setup and operation over the phone. 
5G EMF Measurement Kit Operation Guidelines 
Power density, which is measured in Watts per square metre (W/m2), describes the intensity of EMF fields. An EMF Meter can be used to measure this power density.  
The EMF measurement kit includes two handheld meters. The HF38B, which covers a range of 700Mhz to 2,700MHz (2.7GHz), and the HFW35C, which has a measurement range of 2.4 to 6GHz. This allows for monitoring and recording of power density measurements for a wide range of transmitters for various applications. 
5G/4G/3G Mobile Phones 
5GHz/2.4GHz Wireless Networking 
Bluetooth 
DECT Phones 
Radar 
Microwave Links for communications
The meter(s) have an integrated antenna that is directional, allowing you to point towards a known signal source and observe the meter's display. 
The meter has an LCD display that reads in µW/m2 (microwatts per square meter), which is the power density measurement. This is the unit of measurement that the standards for safe limits and regulatory compliance refer to. 
The antenna, volume control, power switch and speaker are all self-explanatory. 
There are 3 switches that allow for the following: 
RMS/Peak – Use this to display continuous readings or capture the peak reading. 
Range – Selects between 199 and 1999 µW/m2 full scale range. 
Pulse/Full – Selects differentiation between pulsed and un-pulsed radiation.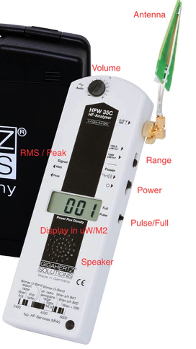 You can hear any signals present through a built-in speaker and adjust the volume level to your desired setting. 
By listening to the sounds of the modulation from different transmitters, it soon becomes obvious as to the source of the signal being heard. A 5G transmitter has a very distinct sound. So does a 4G transmitter and a Wi-Fi signal again has its own type of pulse sound. 
You can easily determine the maximum power density for various types of signals by adjusting the settings and watching the LCD display. 
The EMF measurement kit is available for hire with competitive rates starting from 1 day's hire.  
Professional organisations, who carry out 5G measurements on a regular basis may wish to purchase the EMF kit. Please contact ADM Nuclear Technologies for pricing. 
Requesting Expert Advice on 5G EMF Measurements 
ADM Nuclear Technologies will readily offer advice and guidance on the operation of these meters.   
However, customers are advised to contact  ARPANSA  (Australian Radiation Protection and Nuclear Safety Agency) for advice on what is considered a safe level of EMF radiation, and what safety standards are in force in Australia.  
Their website has a useful article on 5G transmissions, which you can read by clicking on the following link: 
5G New Generation Mobile Phone Network & Health  
For further information or advice on EMF Meters please contact ADM Nuclear Technologies.   
IS THIS INFORMATION USEFUL?
If so, why not share it with your peers and colleagues. Simply click on the blue LinkedIn share icon below.