New RadEye SPRD-ER from Thermo Scientific
The new RadEye SPRD-ER from Thermo Scientific offers measurements over an extended energy range than the standard RadEye SPRD. 
Spectroscopic Energy Range:
20 keV ~ 3 MeV 
Survey Meter Energy Range:
58 keV ~ 6 MeV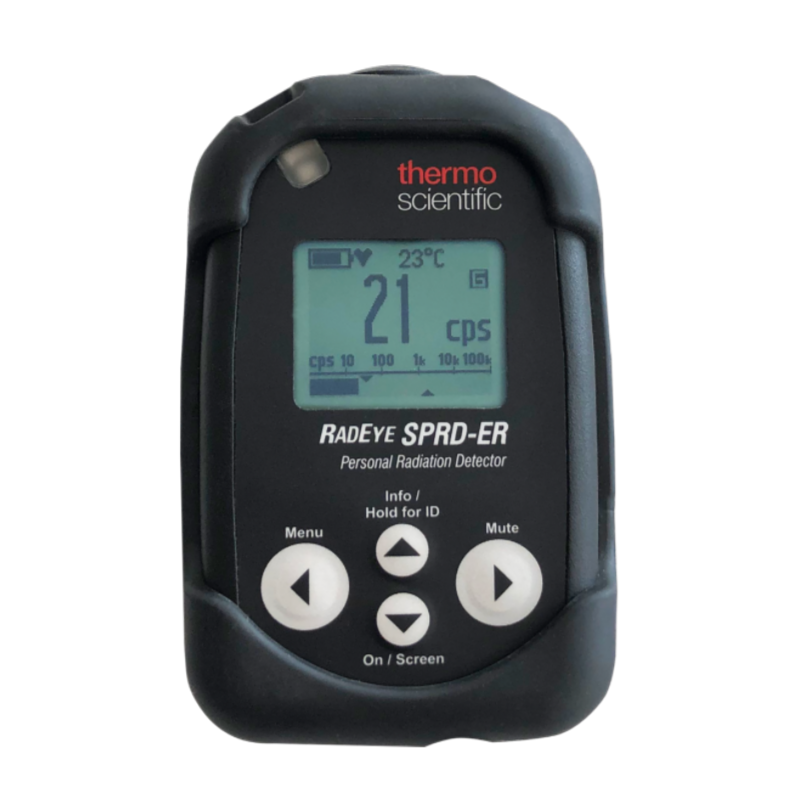 The RadEye SPRD-ER is a high-performance radiation detection and radionuclide analyser, designed to detect, locate and identify radioactive nuclides. 
It protects first responders by providing significant detector sensitivity for search and find, combined with accurate high dose rate radiation measurement. 
The SPRD-ER is a suitable Geiger counter for all users and may be the only radiation detector you need. 
 The SPRD-ER radiation detector identifies the nature of the discovered material in a manner configurable for your operation or user skills – from simple artificial vs. natural distinction; to industrial, SNM, and medical classification; to full spectroscopic analysis. 
The new RadEye SPRD-ER offers increased protection for your personnel, with the energy higher range capability protecting responders when entering high dose rate scenarios. 
The RadEye SPRD-ER can be configured as a simple 0 to 9 radiation level gauge, or you can select dose rate readings, simplified gamma ID classification, or full spectroscopic functions. 
Thermo Scientific's Natural Background Rejection (NBR) technology has been proven to eliminate nuisance alarms triggered as a result of NORM materials found in granite, natural stones and subway tiles.  
This NBR technology is a feature of the new RadEye SPRD-ER. The patented Natural Background Rejection algorithm (NBR), allows the RadEye SPRD-ER to immediately separate man-made (non-NORM) gamma radiation from natural background fluctuations in real-time during operation.  
When enabled, the RadEye SPRD-ER automatically classifies and identifies gamma radiation as a result of an NBR alarm. 
Click HERE If you would like further information or would like to speak to a member of our expert team about selecting a suitable radiation detector.